Accelerating Your AI Roadmap: A Journey
ABOUT
Like the internet, AI will create drastic change across industries so it's no surprise everyone is looking to integrate AI into their internal solutions and external products. However, individuals and teams struggle to find a place to start. In some cases, simply using a new modeling approach like machine learning could yield a quick win. In other cases, you may have to process data differently or create novel data streams prior to realizing the potential of AI. Novel datastreams like sensors and video cameras, when combined with AI, can deliver entirely new experiences.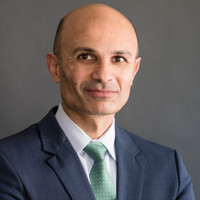 Vinay Seth Mohta
Managing Director, Manifold
Vinay Seth Mohta is a Managing Director at Manifold, an AI engineering services firm with offices in Boston and Silicon Valley. Previously, Vinay was the Chief Technology Officer, Chief Information Security Officer, and Co-Founder at Kyruus, a company leveraging data to help health systems match patients with providers more precisely. Vinay was previously at Kayak, acquired by Priceline in 2012, where he led the development of a Big Data predictive analytics platform for measuring the impact of the company's multi-channel marketing efforts. Prior to Kayak, Vinay served as CTO for Global Health Delivery, a non-profit collaboration between Brigham & Women's Hospital, Harvard School of Public Health, Harvard Medical School, and Partners In Health. Prior to that, Vinay was a Software Architect and Product Manager at Endeca Technologies, acquired by Oracle in 2011, where he worked on the core technology platform and the analytics products. Vinay has BS and MEng degrees in computer science from MIT.