ABOUT
In an effort to bring AI to mail processing, Léo Dreyfus-Schmidt, Lead Scientist at Dataiku, presents a prototype developed for a client in the insurance industry. Using computer vision and deep learning techniques, it automatically processes typed and hand-written letters to send them to the correct department within the organization.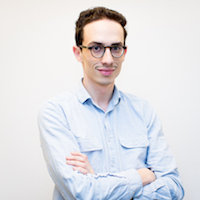 Léo Dreyfus-Schmidt
Head of Research, Dataiku
Léo Dreyfus-Schmidt is a mathematician and holds a PhD in pure mathematics from University of Oxford and University of Paris VII. After five years focusing on homological algebra and representation theory in Paris, Oxford, and the University of California – Los Angeles, he joined Dataiku where he has been developing solutions for predictive maintenance, personalized ranking systems, price elasticity, and natural language applications. Léo is a bicycle and food aficionado (separately), so in his spare time, you'll find him either zipping around Paris rain or shine or enjoying a great meal somewhere.