Essentials to Succeeding with Analytics Initiatives
ABOUT
Essentials to Succeeding with Analytics Initiatives – Lessons from Real Life with Ashok Kumar, Director of Business Intelligence and Analytics at Avis Budget Group:
In order to succeed in analytics initiatives, one must plan for a holistic, end-to-end process to achieve the desired results. While there is a great deal of emphasis on the latest in machine learning and artificial intelligence, it is imperative that organizations have a deep understanding of its available data assets – including the quality, timeliness, and accessibility – and have business participation at the highest level. In this session, we will analyze the success and challenges encountered during real projects and hear lessons learned from one of the top players in the rental car industry. The talk will cover: key ingredients for a successful analytics initiative, team structure, tools, and partnerships for success, importance of constant monitoring and continuous process improvement.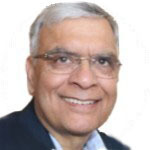 Ashok Kumar
Director of Business Intelligence, Avis Budget Group
Ashok Kumar is Director of Business Intelligence and Analytics at Avis Budget Group –a major player in the industry. He has been responsible for establishing Big Data and Analytics capabilities within the organization and executing several advanced analytics projects. He has been in several leadership roles in Information Management, Enterprises Architecture and other IT disciplines over his long career spanning multiple decades.