Optimistic AI Technologist: Keeping the AI Revolution Human Centric
ABOUT
When Wired was founded, it heralded—even celebrated—a coming revolution in technology. To editor-in-chief Nicholas Thompson, that revolution has arrived—just not in the way he'd hoped. Despite its abundance, technology is still unevenly distributed across society, with disruptions already having a massive impact; our journalists face a new era of alternative facts and 'fake' news; Facebook users often sit in an algorithmic echo chamber of ideas; and a cynical suspicion of science means even expert consensus is cast into doubt.
However, there's a silver lining. "Data and artificial intelligence can solve these challenges and make the world a better place." In this keynote, Thompson discusses how AI will change our devices, the way we work, earn a living, fight wars, solve problems—our very selves.
From the ever-changing frontier of business, from Silicon Valley to Wall Street—he shares how intentional, responsible design and the highest values can help ensure the AI revolution remains at the service of human beings.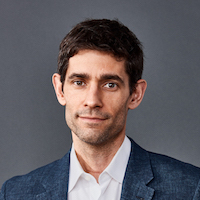 Nicholas Thompson
Editor-in-Chief, WIRED
As the editor-in-chief of Wired, Nicholas Thompson is staking out a bold, optimistic vision for covering, and responding to, the changing realm of digital culture. From artificial intelligence to entertainment, privacy to social media, ethics to war, Thompson leads the news cycle. Thompson served previously as a senior editor at Wired from 2005–2010. There, he edited both National Magazine Award-nominated writing and "The Great Escape," the story that became the feature film Argo. Thompson has also played a pivotal role with The New Yorker—first as senior editor, then as editor of the magazine's digital platform, where he helped re-design the website, launch the New Yorker app, spark an eight-fold increase in monthly readers, and quadruple the number of new digital subscribers each month. He is also the author of the critically acclaimed biography The Hawk and the Dove: Paul Nitze, George Kennan, and the History of the Cold War.