Search at GIPHY: Staying on Top of the Zeitgeist
ABOUT
While on the outside GIPHY search may seem like a standard search problem, being on the top of the zeitgeist is an increasingly viral world is a constant challenge. GIPHY has devised ways to make sure their users are getting the most relevant search via models that allow them to exploit known performant content while experimenting with potentially successful content. This model ensures relevant content is surfaced to the end user while still trying to explore the space to ensure that new and exciting content has a chance to propagate up towards the top of the page.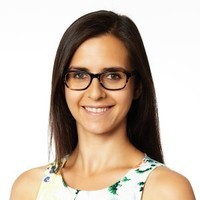 Yael Elmatad
Lead Data Scientist, GIPHY
Yael Elmatad is the Lead of the Search & Discovery Division at GIPHY. Prior to that, she spent 4 years at Tapad (a Marketing Technology company based in NYC, acquired by Telenor in 2016) as a Senior Data Scientist. Yael earned her undergraduate degree in Chemistry from NYU in 2006 and graduated as Valedictorian of the College of Arts and Sciences. She earned her Ph.D. from UC Berkeley in Theoretical Physical Chemistry in 2011.