Augmented Human Intelligence
ABOUT
In his talk, Walid Mehanna, Head of Data & Analytics at Mercedes-Benz Cars, shares insights about Mecredes-Benz's mission to deliver value while making data usable, and applying analytics – from idea to impact. He argues that instead of Artificial Intelligence driving decisions in isolation, organizations should look towards augmenting human intelligence—with the corresponding domain expertise, emotional intelligence, and empathy.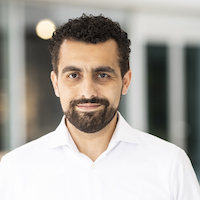 Walid Mehanna
Head of Data & Analytics, Mercedes-Benz
Walid's passion has always been to leverage new technologies and ideas to improve the efficiency and effectiveness of organizations, processes and supply chains. As Head of Data & Analytics Mercedes-Benz Cars Finance he and his team deliver end-to-end, data-driven solutions from idea to business impact. In that role he also chairs the Mercedes-Benz Data & Analytics Board, which establishes common standards for data topics across all functions and the whole value chain.
In more than twenty years hands-on with technology and thirteen years of consulting major German corporations, he has always worked on the intersection between business and IT. Walid holds a Masters degree in computer science from the University of Oldenburg, Germany.