From Us, To Us: An Inclusivity Architecture
ABOUT
Time and time again, research proves that diverse teams increase innovation and profits as well as enhance work quality and end products. Yet while the philosophy of diversity in thought continues to gain traction, the full spectrum of diversity — gender, ethnic, racial, class, and sexuality — has yet to be applied. Bridging this gap is where data comes in, as it has led to greater investment in broadening Participation, Access, Inclusion and Representation (PAIR). In this talk, Dr. Marshall will share plausible approaches on how today's enterprise can construct, support, and sustain inclusivity using data and the power of the PAIR principles.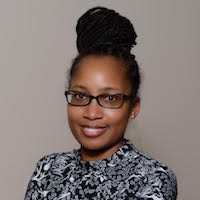 Brandeis Marshall Professor of Computer Science, Spelman College
Dr. Brandeis Marshall is an Associate Professor of Computer Science in the Computer and Information Sciences Department at Spelman College. She brings nearly 15 years experience in higher education, and 10 years teaching databases and data-related courses. Her interdisciplinary research lies in the areas of information retrieval, data science, and social media. Since 2016, Dr. Marshall has served as the principal investigator of an NSF HBCU-UP Targeted Infusion Project entitled Data Science eXtension (DSX). Through DSX faculty professional and curriculum development trainings, data science principles are integrated into the curriculum at Spelman and Morehouse Colleges. Other research includes the BlackTwitter Project, that blends data analytics, social impact and race as a lens to understanding cultural sentiments. Dr. Marshall collaborates with organizations and colleagues that increase data literacy and understanding, share best data practices and broaden participation in data science. She received her PhD and M.S. in Computer Science from Rensselaer Polytechnic Institute and her B.S. in Computer Science from University of Rochester.