Panel: Magical Experiences and Greater Well-Being
ABOUT
AI can be used to create scalable personalized experiences that take into account our individual interests & well-being. In this fireside chat, we sit down with three data science leaders who are using personalization to create magical and life changing experiences in a responsible way. They will share use cases, how they are making decisions around personalization, and advice for empowering teams to make smart, responsible decisions that foster consumer trust.
Panelists:
Bridgette Rippel Vargas, Director of Customer Engagement Platforms @ Disney Parks & Resorts
Haile Owusu, SVP of Analytics, Decisions and Data Sciences @ WarnerMedia
Michael Xiao, Divisional Vice President of Enterprise Analytics @ Blue Cross and Blue Shield of Illinois, Montana, New Mexico, Oklahoma & Texas
Moderated by:
Will Nowak, Data Scientist @ Dataiku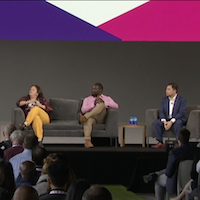 A Panel Featuring Disney, Warner Media, Blue Cross Blue Shield
Bridgette Rippel Vargas is the Director of Customer Engagement Platform Delivery & Analytics at Walt Disney Parks and Resorts. In this role, Bridgette leads the Analytics & BI organization, focused on the use of science, analytics, insights, data, and digital tags to aid in the optimization of customer messaging. She also leads the Campaign Delivery and Privacy & Compliance teams. She has demonstrated experience delivering data, technology and insights solutions which inform, monitor and adapt strategic programs for delivering a world-class customer experience. Bridgette has been leading technology initiatives for the last 20 years, with previous leadership roles at both Delta and AT&T. As the General Manager of Marketing Technology & Operations at Delta, she was responsible for strategic and operational oversight of marketing operations & automation data solutions and business intelligence functions. ;
Haile Owusu is senior vice president, analytics, decisions & data sciences at Turner. Within this role, Owusu primary focus is to build out Turner's data science capabilities, expanding the company's scope in applying analytics, data and decision sciences to enhance its products. His Data Science team works closely with many of Turner's business groups to translate strategies into execution plans for new decision support systems and audience insight strategies. Owusu reports to Jesse Redniss, executive vice president of data strategy & product innovation at Turner and GM of WarnerMedia Innovation Lab.Owusu has a Ph.D from Rutgers University, a Master's of Science from King's College, University of London and a Bachelor of Arts from Yale University. He has a background in theoretical physics and prioritizes mentoring other young physicists in the industry.
Michael Xiao currently leads the Enterprise Analytics organization at Blue Cross Blue Shield of IL, NM, MT, OK & TX, which is the center of excellence for advanced analytics and promotes a data-driven culture across the company. His area also creates and deploys analytics and data science products to serve Blue Cross's 15 million members by making healthcare more affordable and enhancing overall member experience. He is a Fellow of the Society of Actuaries, received his undergraduate degree in Economics and Film from Dartmouth College, and is currently enrolled in the MBA program at the University of Chicago. He lives in Chicago and participates in machine learning competitions on Kaggle for fun.