The Growing Pains, Pitfalls & Future for a Data Science Team in a Hyper-Growth company
ABOUT
"A's hire A's"; A-calibre individuals hire A-calibre individuals causing a growth in high-performant individuals. DAZN, in its early life, had a growth in highly talented individuals that could manage and build aspects of the product. This is premised on empowering individuals to own & development business areas; from strategy to data science. Works great for a small operation but as a company grows regionally and in ambition, it introduces more complexity and chaos in every function.
As complexity & chaos increases process is the natural reaction to a) ensure mistakes are reduced & b) limit the risk of failing to develop; however it can take ownership from the A-calibre individuals (not a good thing as 'it is [their] baby') forcing them to consider whether they want to remain.
With this trade-off in mind, we will be exploring what DAZN has done & what it is doing to seek a resolution regarding the concern that 'process is important, but not at the detriment or limiting talented individuals'. As we all may know in this industry, A-calibre individuals are important to retain in such a dynamic & complex field.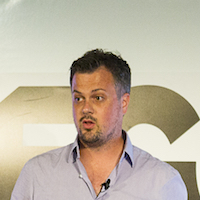 Shaun Moate
Director of Applied ML, DAZN
Shaun is the Director of Data Science & Advanced Analytics @ DAZN – a live and on-demand sports streaming service currently operating in Japan, Germany, Austria, Switzerland & Canada – tasked with building a data-driven culture in a growing global business. It, of course, focuses on the development of people, process, methods, tooling & culture to enable and encourage all stakeholders in the business to ask more of the data. Having previously worked in Data Science/Analytics in varied industries, including Media, Insurance, & FMCG; I am always looking to expand
my understanding of the application of varied data strategies.